Volksgarten, conversion
together with BEHF
Vienna 1
2011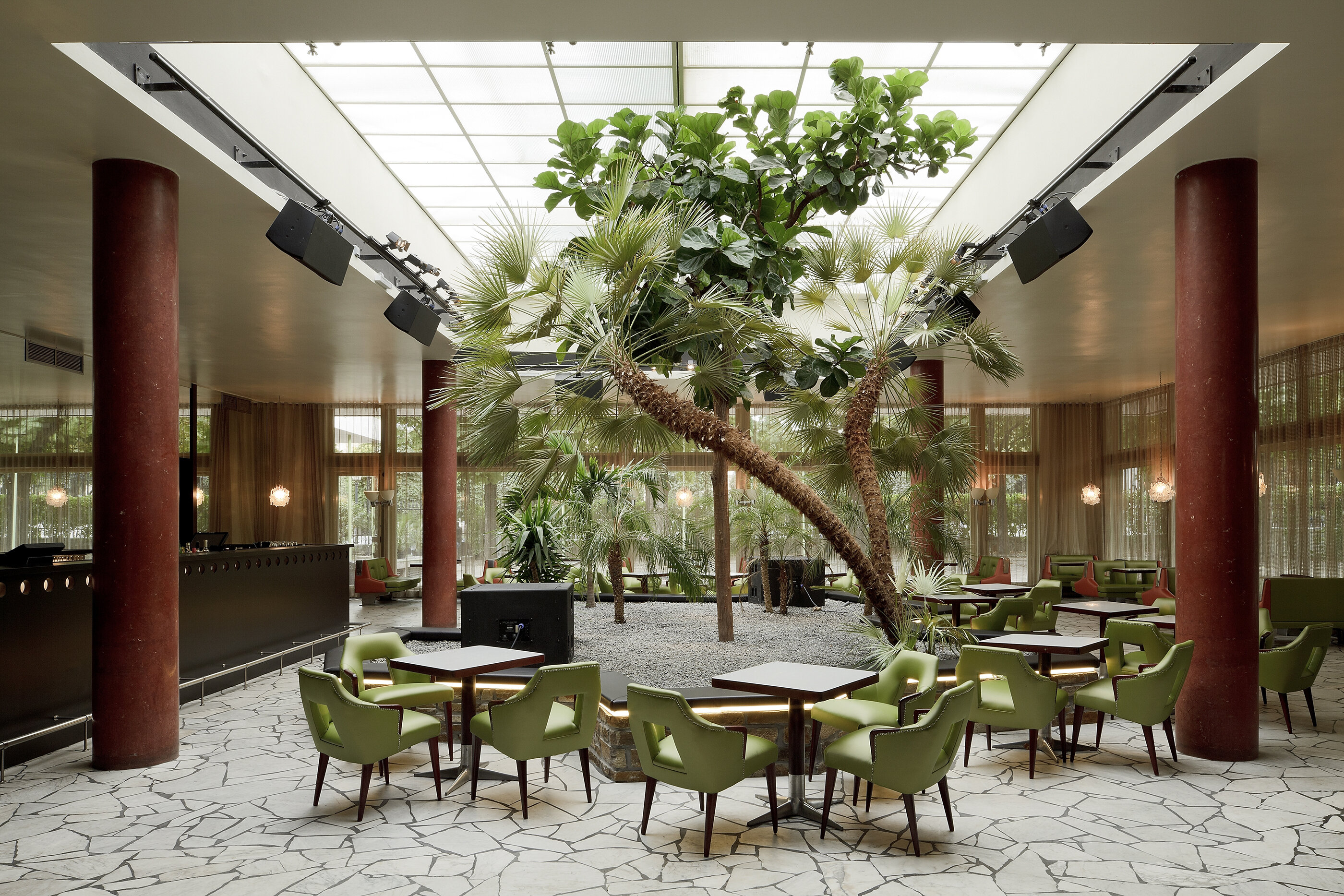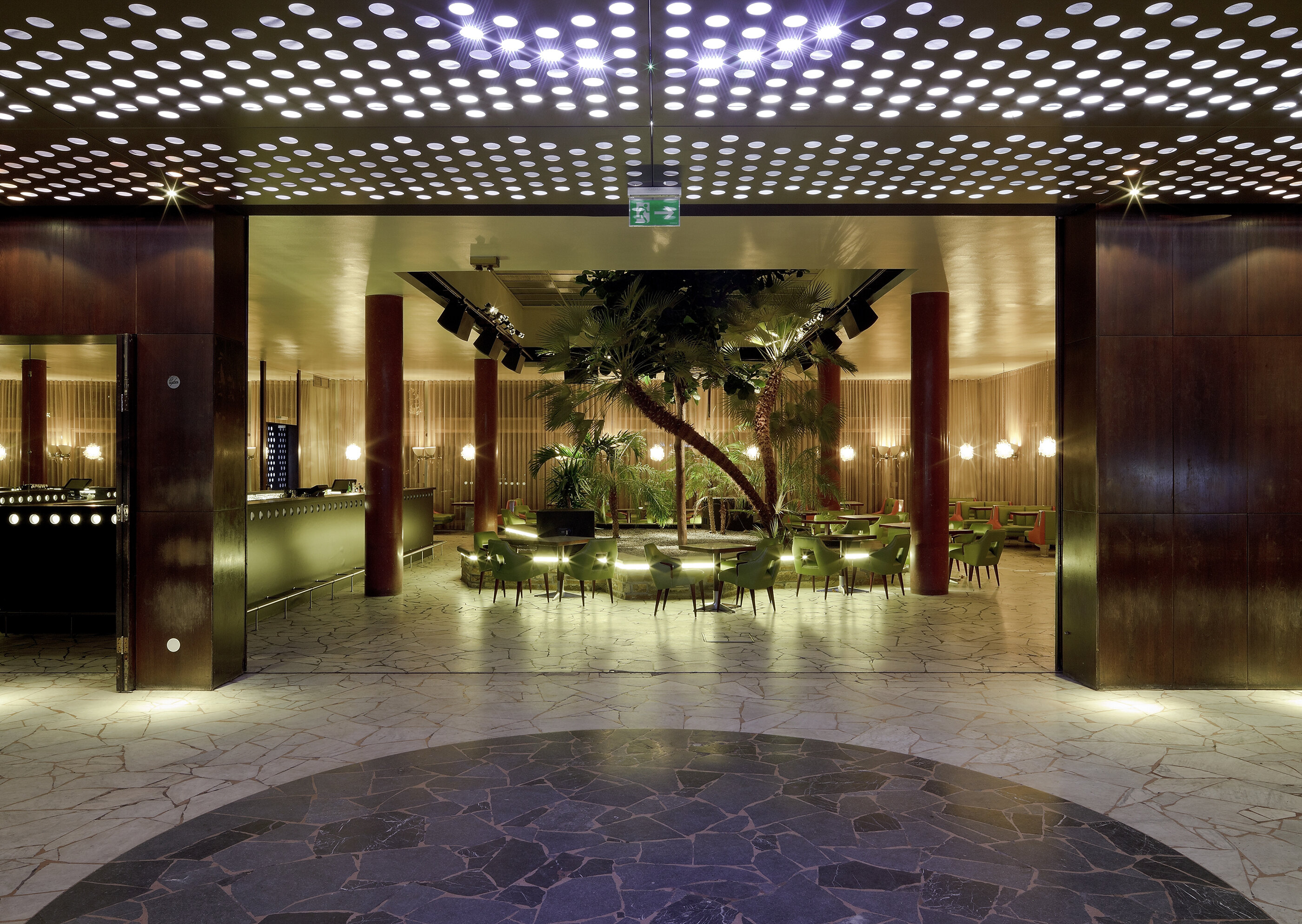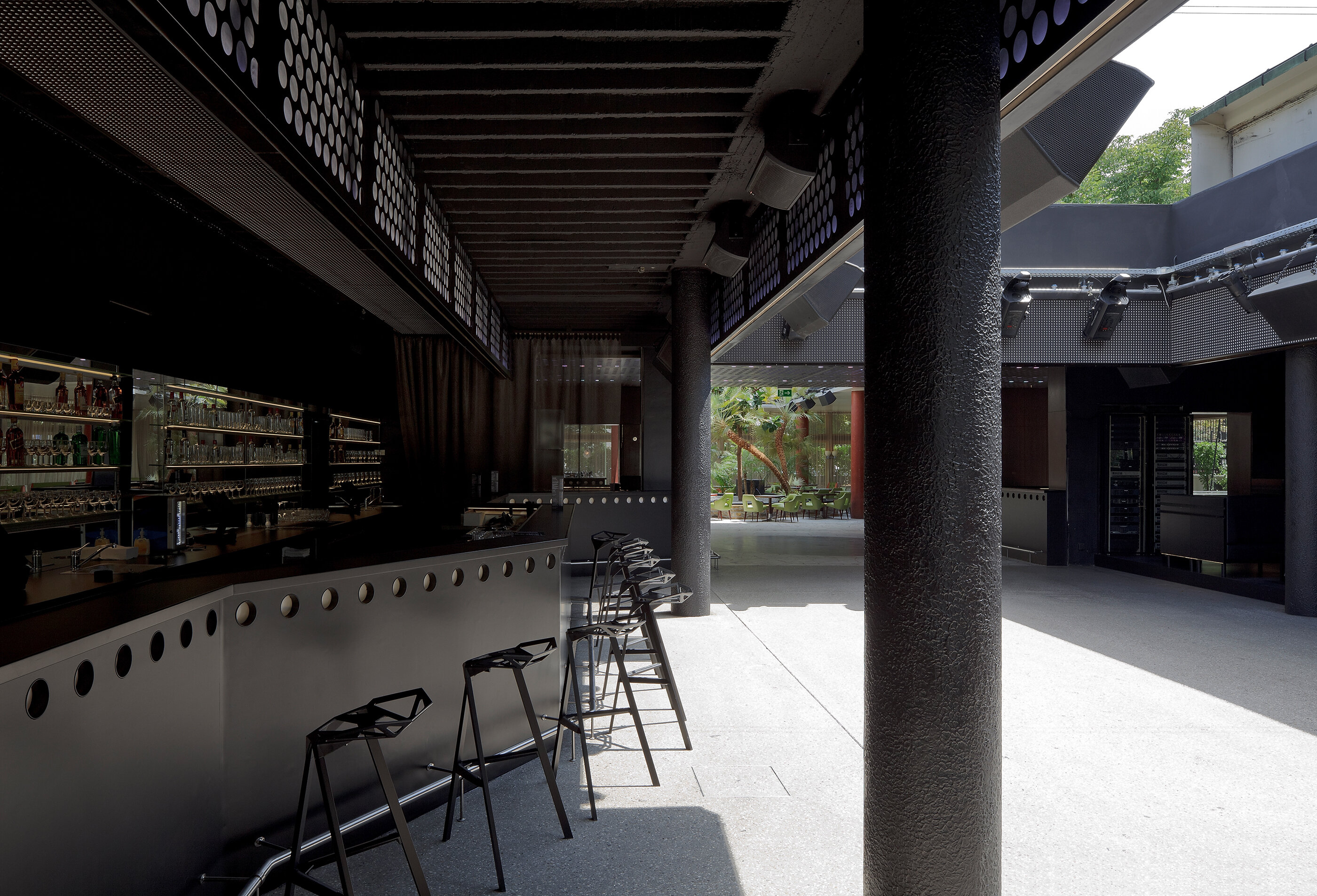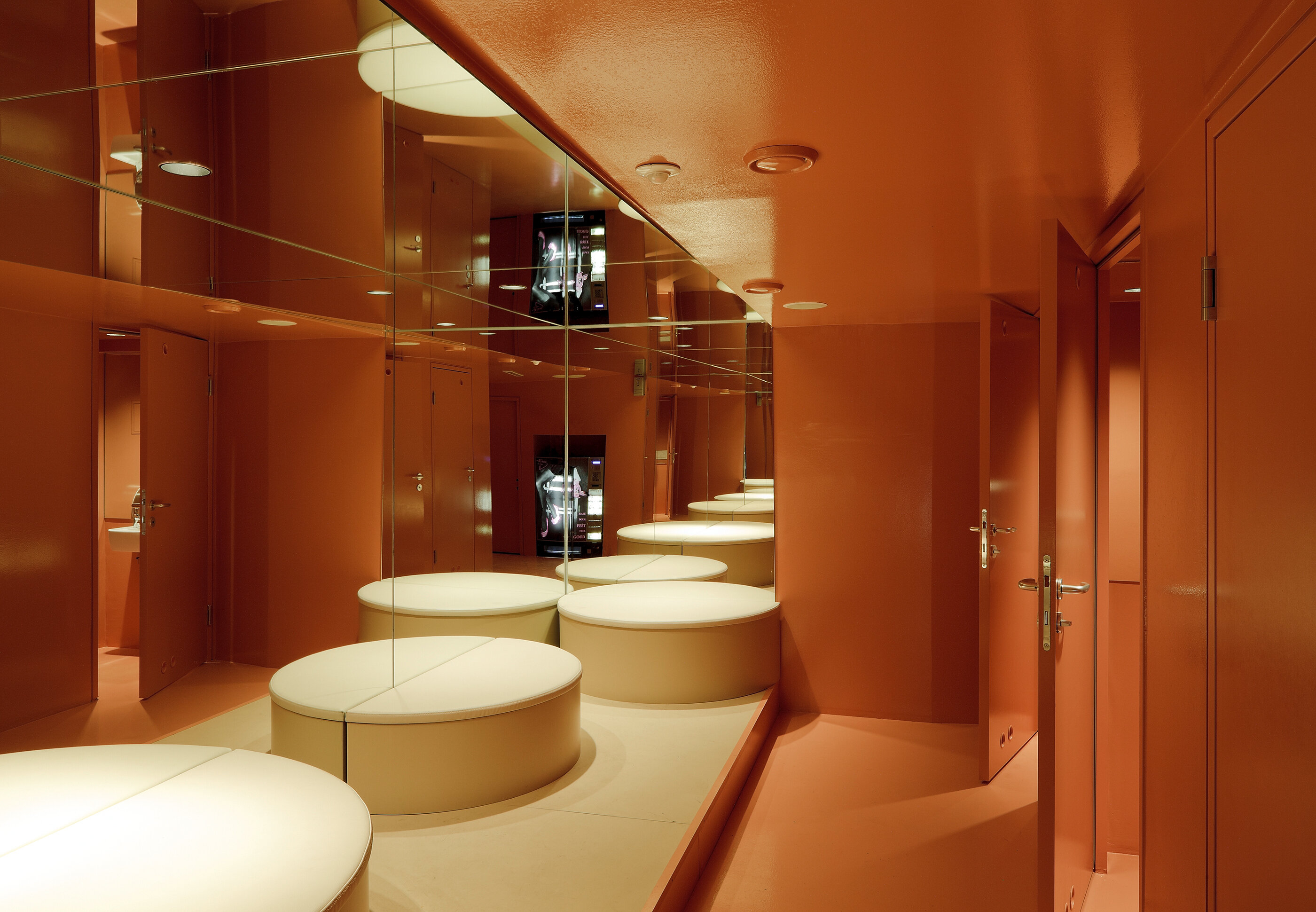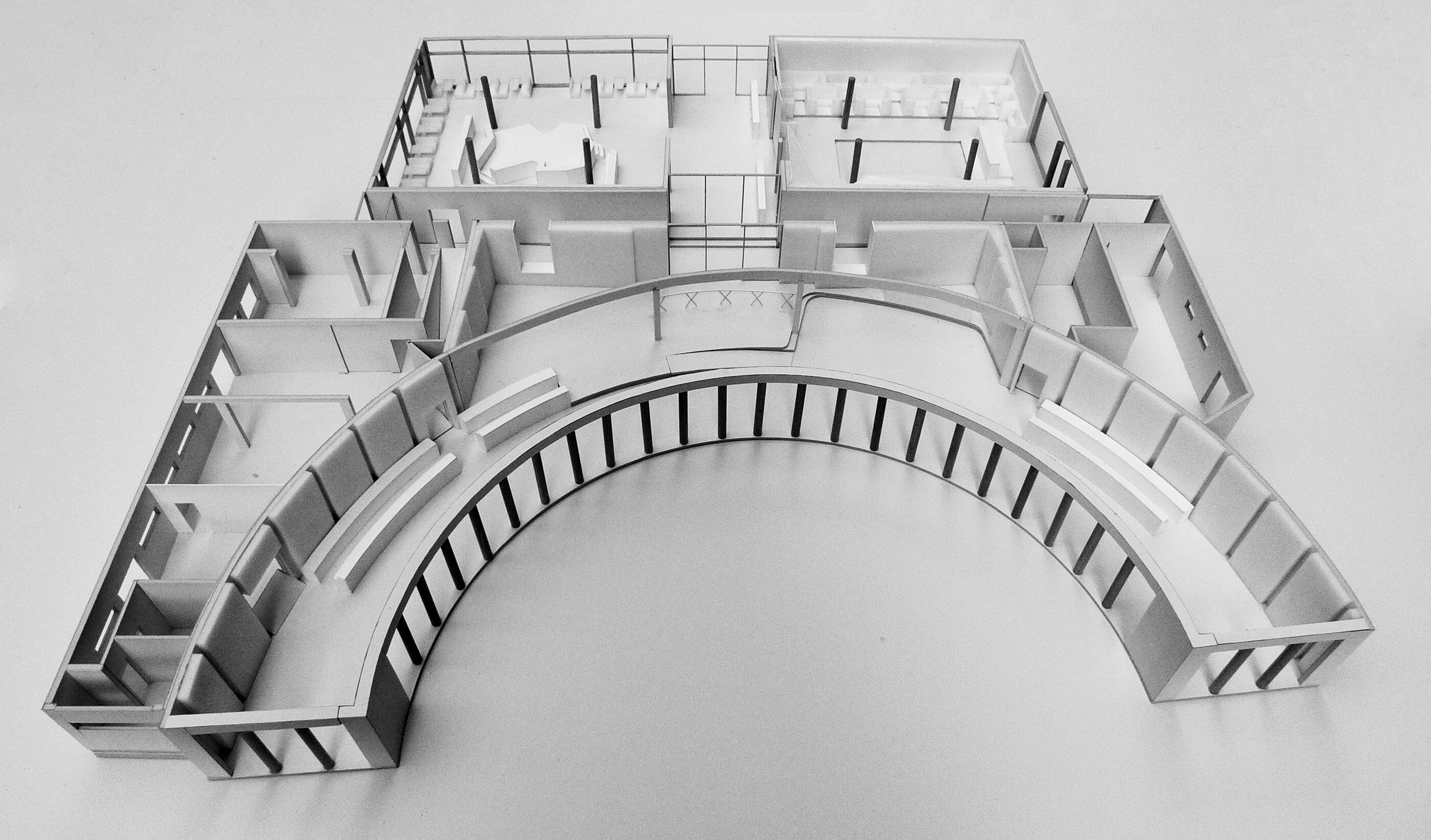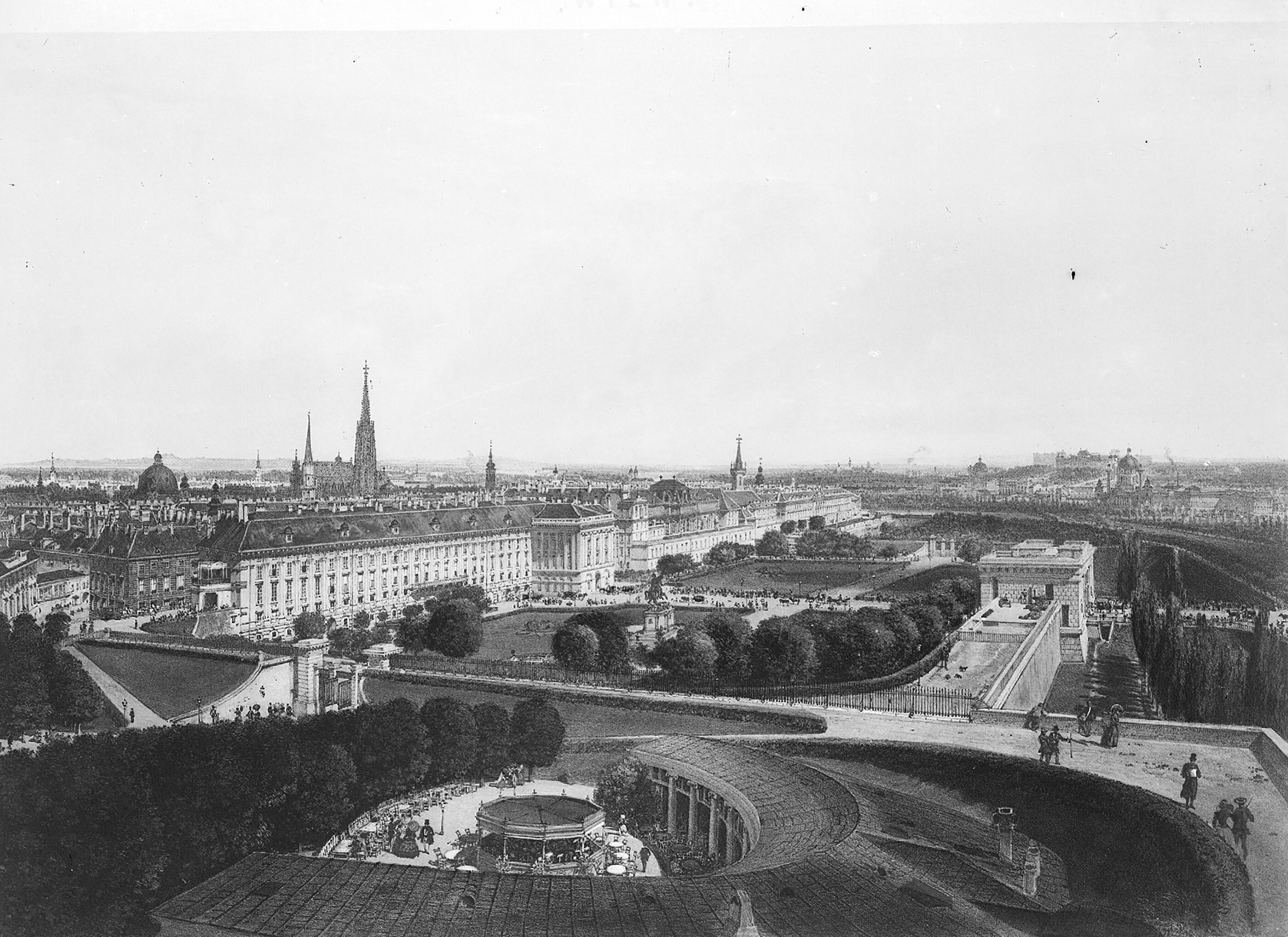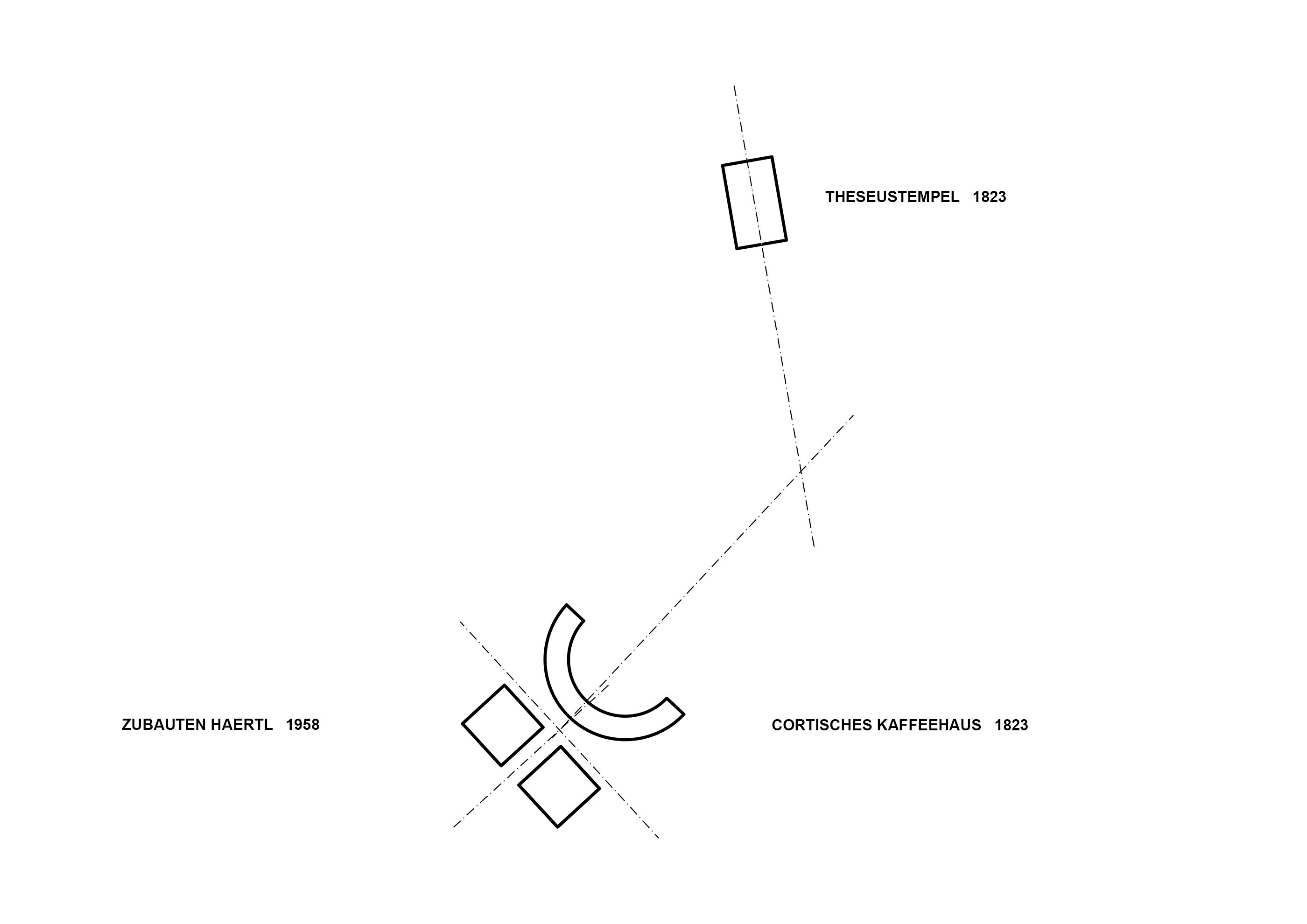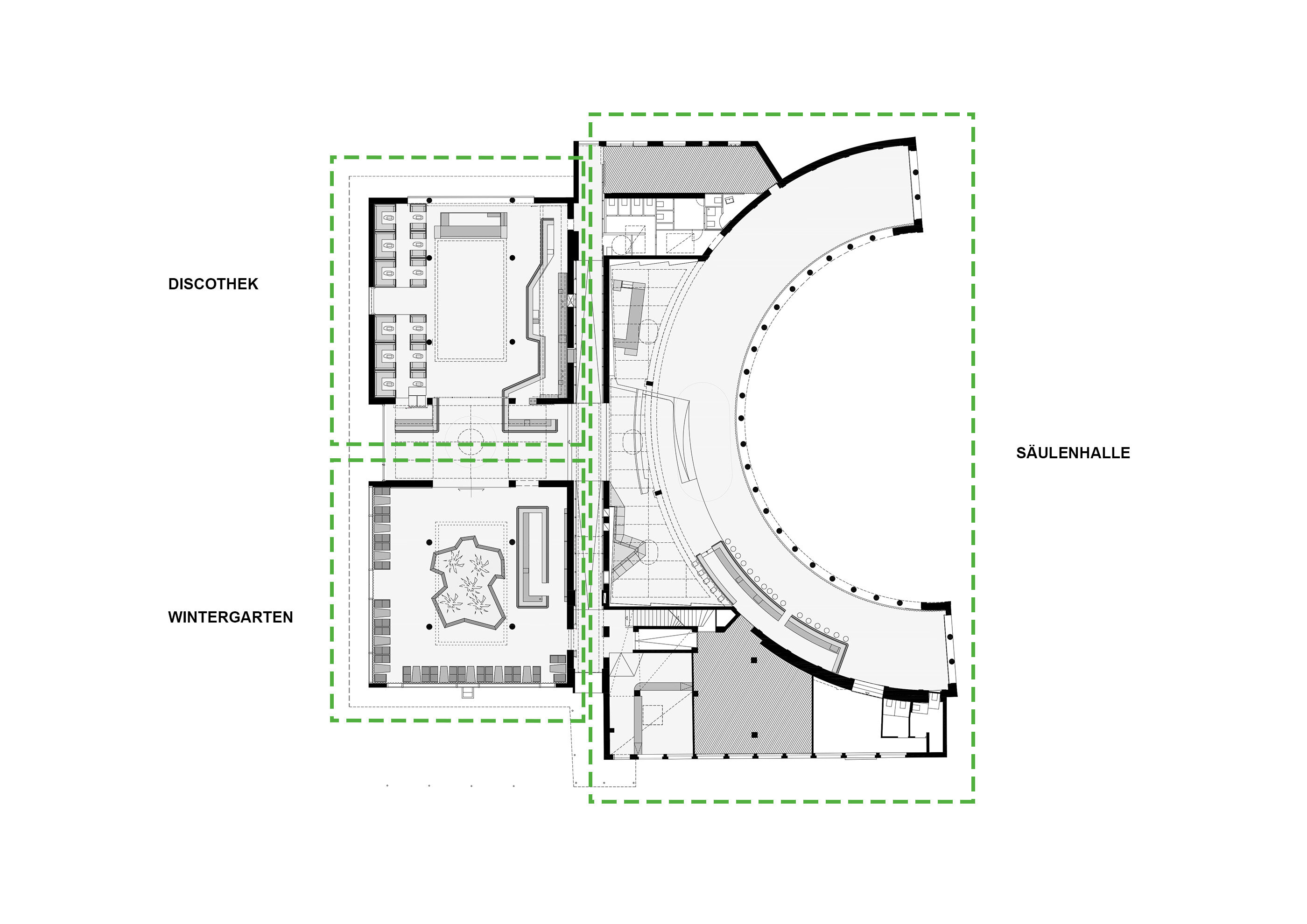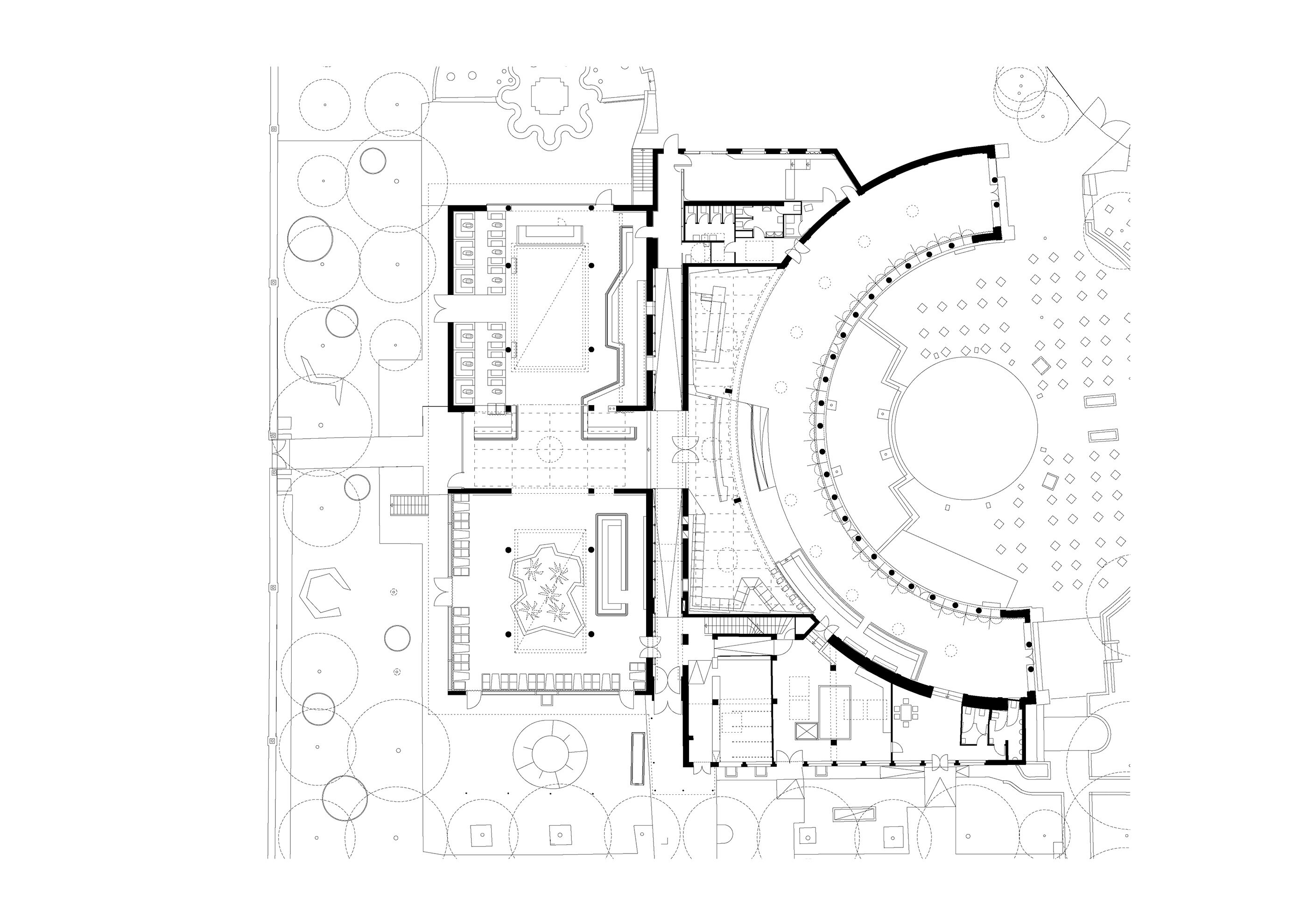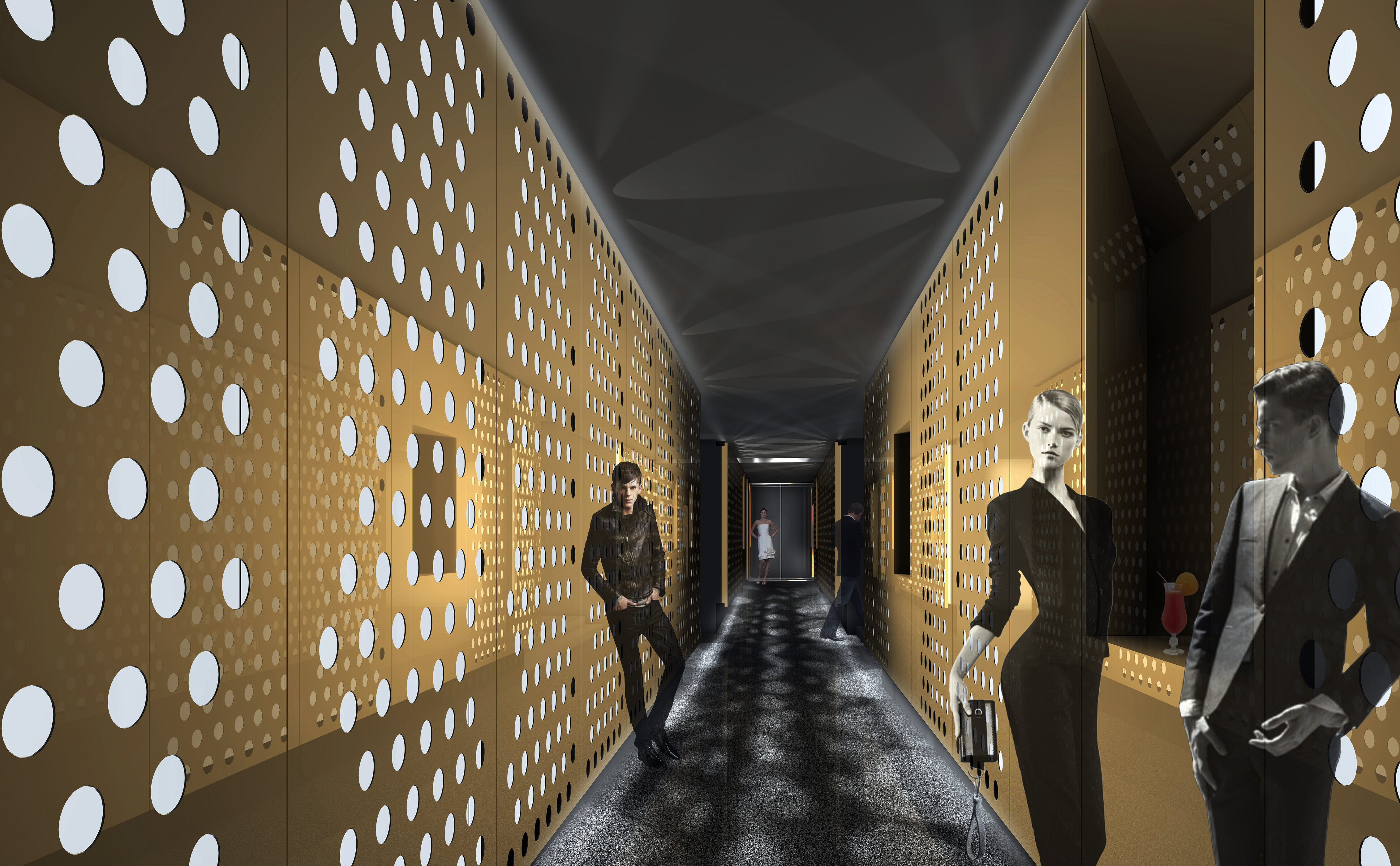 The "Volksgarten", built by Peter Nobile between 1822 and 1823 as a Säulenhalle (columned hall), became a popular meeting point known as the "Cortisches Kaffeehaus". Having suffered damage in the war it was extended by Oswald Haerdtl at the end of the 1950s to form a dance café and to the present day has remained a unique location in Vienna. Haerdtl's design was based on three individual spaces, each with its own character: "Wintergarten", "Discothek" and "Säulenhalle"

In the renovation this basic design concept was retained and augmented by redesigning and completing the corridor and circulation zones that connect these rooms. The large, perforated gold-brown anodised aluminium sheets used in this area create a spatial atmosphere – as a threshold between the powerful identities of the individual rooms. A new entity was created that allows the qualities of the existing building to be experienced in a new way and augments them using contemporary means.

Particularly striking parts of Haerdtl's original design, for instance the "Wintergarten", had been well preserved and were carefully restored to preserve their spatial impact. The "Säulenhalle" with the additions by Haerdtl was "tidied up" so that its powerful curvature could be registered once more. In the "Discothek" no parts of the original space had survived, and it was given a complete new fit-out.
 
Guests can now stand or sit at a total of 80 metres of bar counter.
client: Peter Böhm, Cafe- und Restaurantbetriebe, Vienna

ARTEC Architekten together with BEHF

Team ARTEC Architekten:
Bettina Götz and Richard Manahl
Heinrich Büchel, Johannes Giselbrecht, Michael Murauer, Jun Wook Song,
Björn WIlfinger, Anna-Maria Wolf
models: Fabian Antosch, Gül Cakar
photography:
Bruno Klomfar
ARTEC Architekten
Project Data
general planning:  ARTEC Architekten and BEHF
project management: BEHF, Vienna
light planning:  Christian Ploderer, Vienna
acoustics: Thomas Egger, Vienna
landscape planning: Atelier Auböck + Karasz, Vienna
fire protection planning: Büro Röhrer, Vienna
structural engineering: Zemler + Raunicher, Vienna
building services: Firma Ramsmeier, Vienna
electricity planning:  TB Gruber, Vienna
sound:  Amenti, Vienna

start of planning: 2010
start of construction: 2011
completion: 2011