Kriehubergasse gymnasia centre
competition, ranked 1st
Vienna 5
2023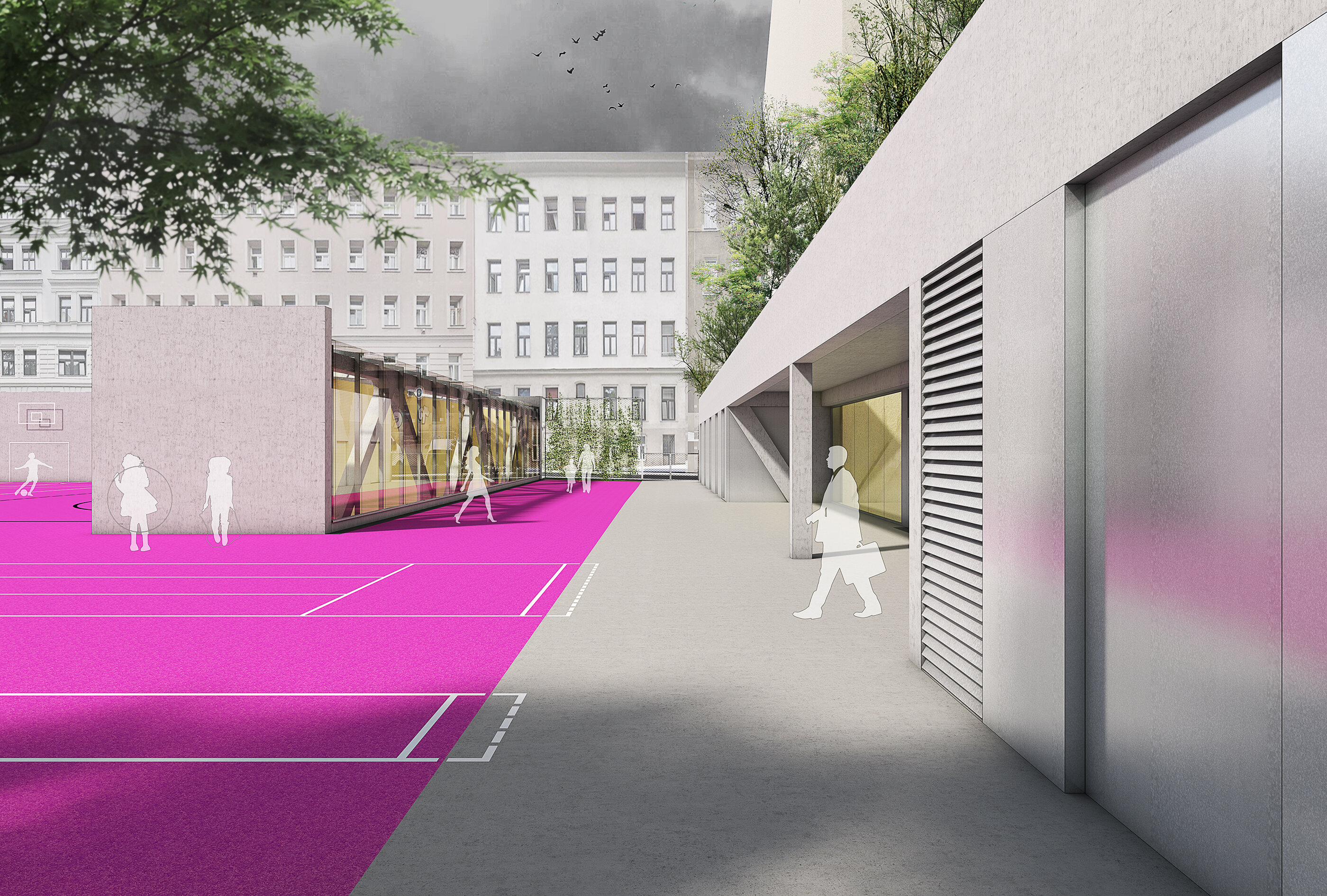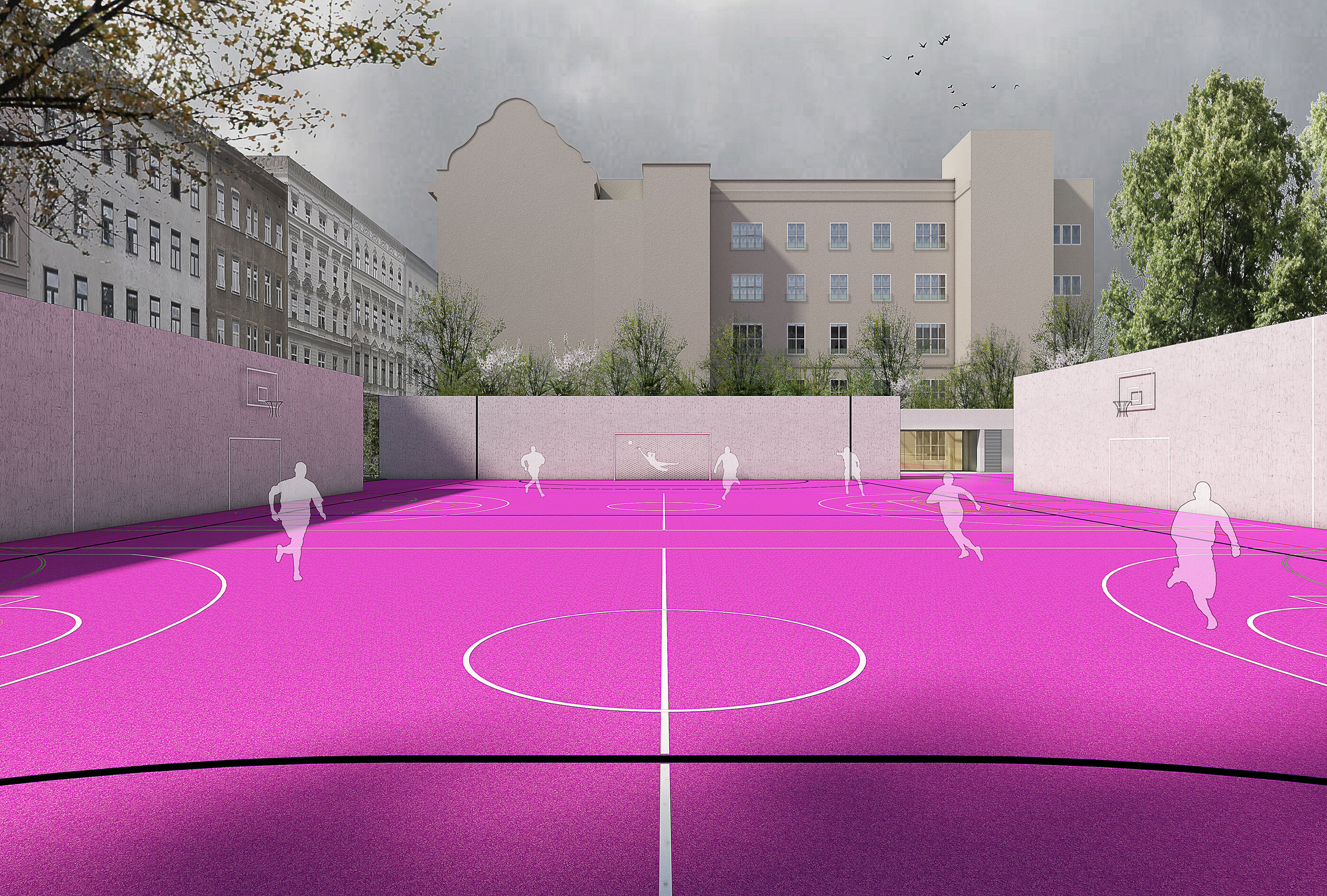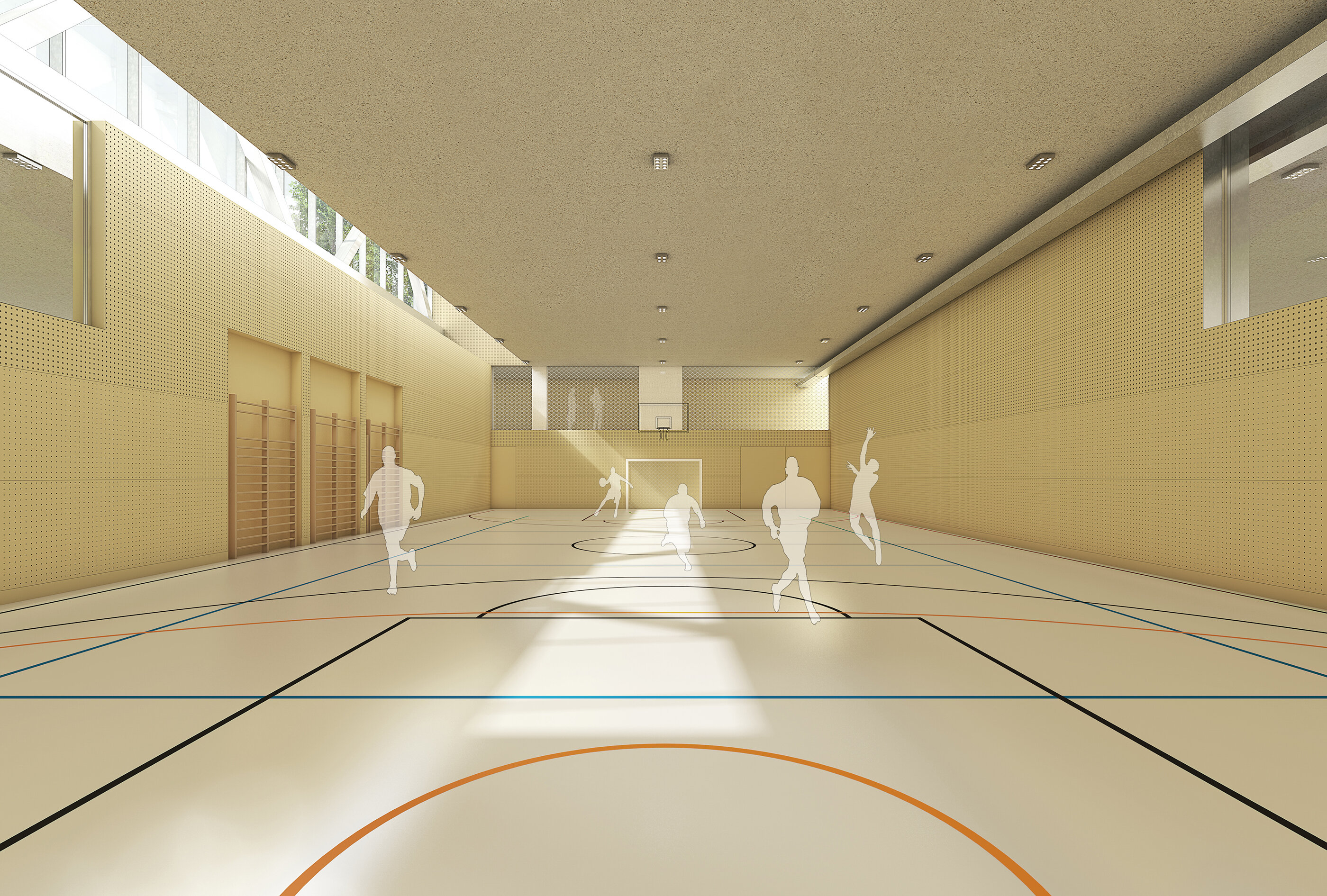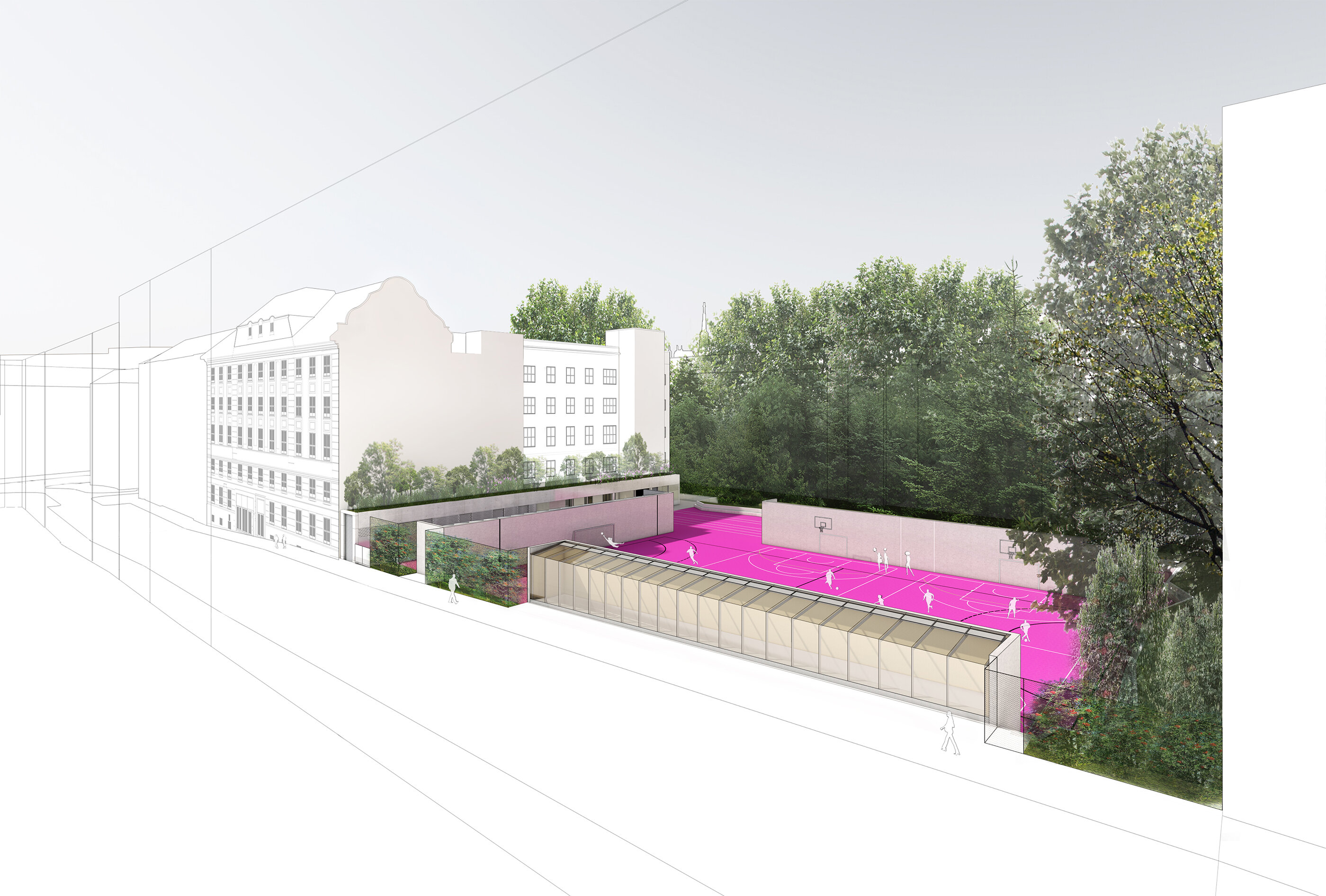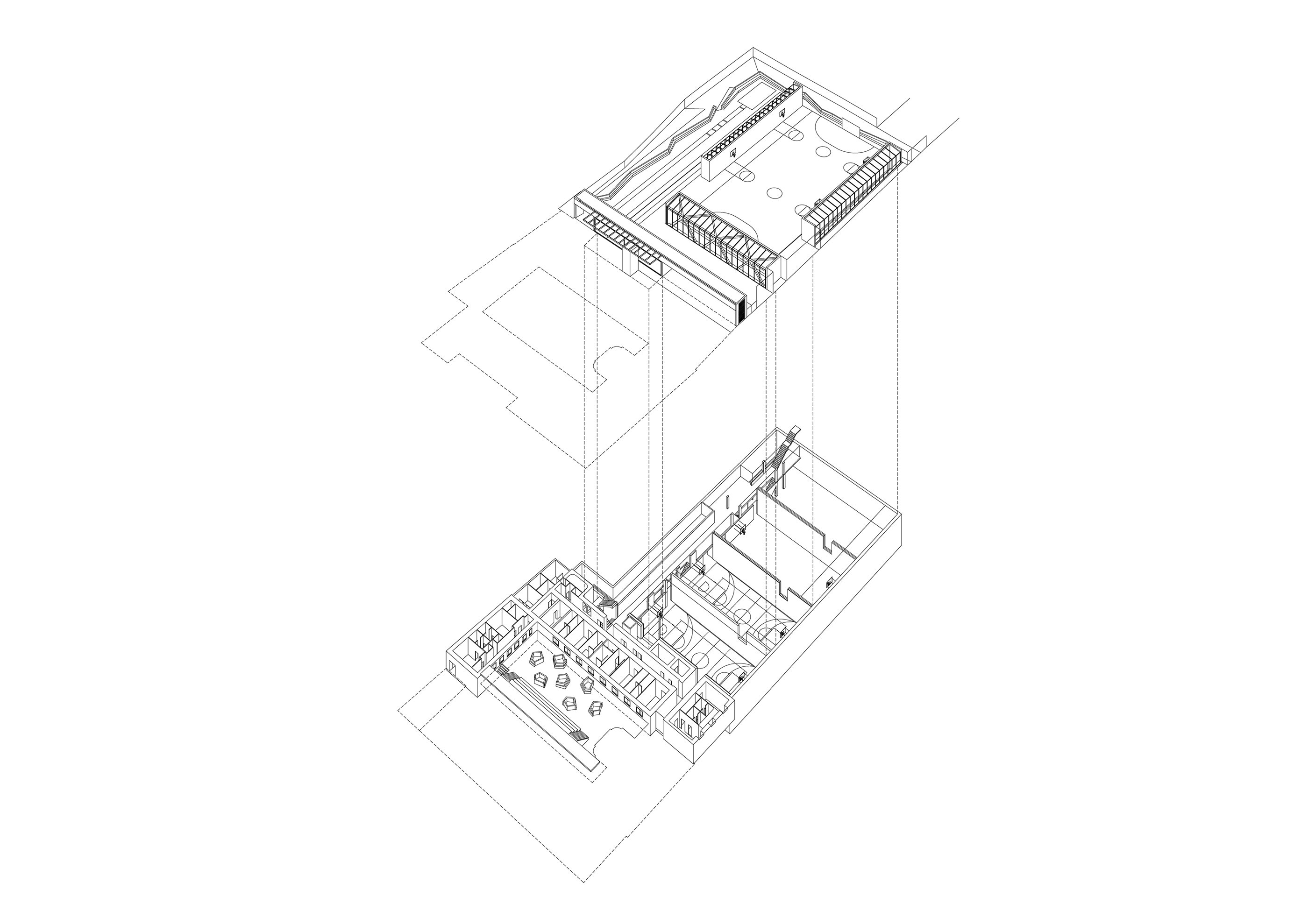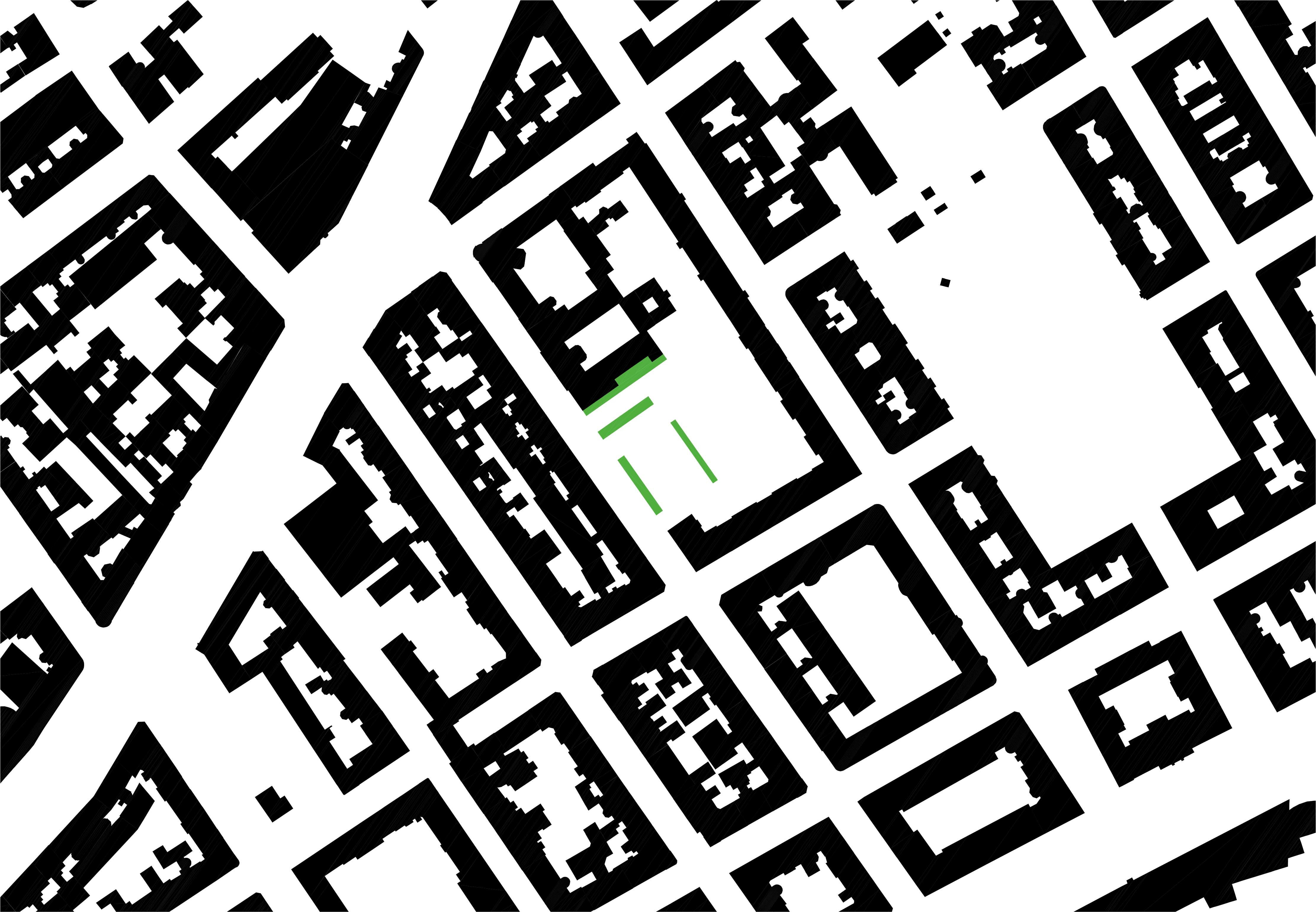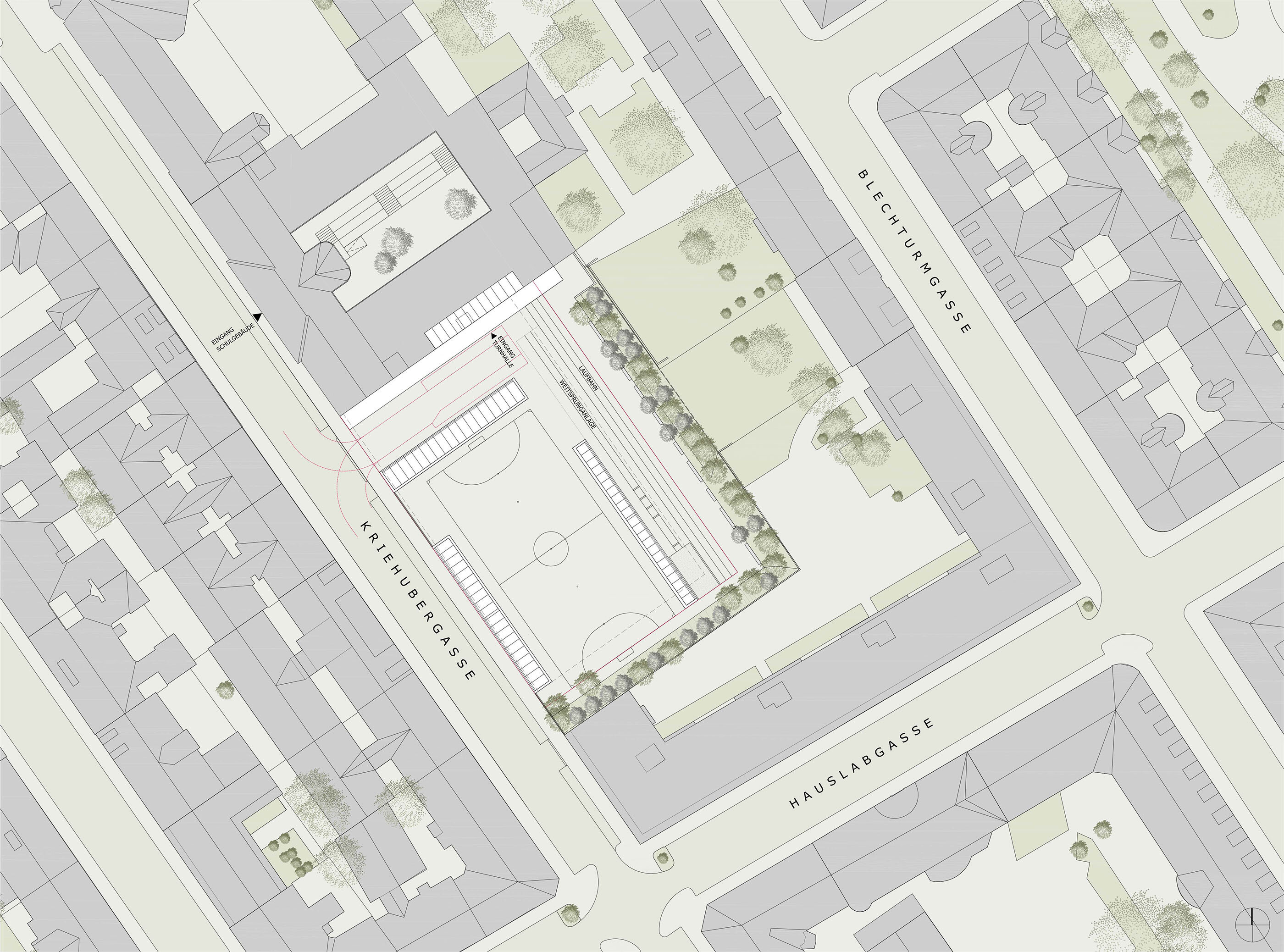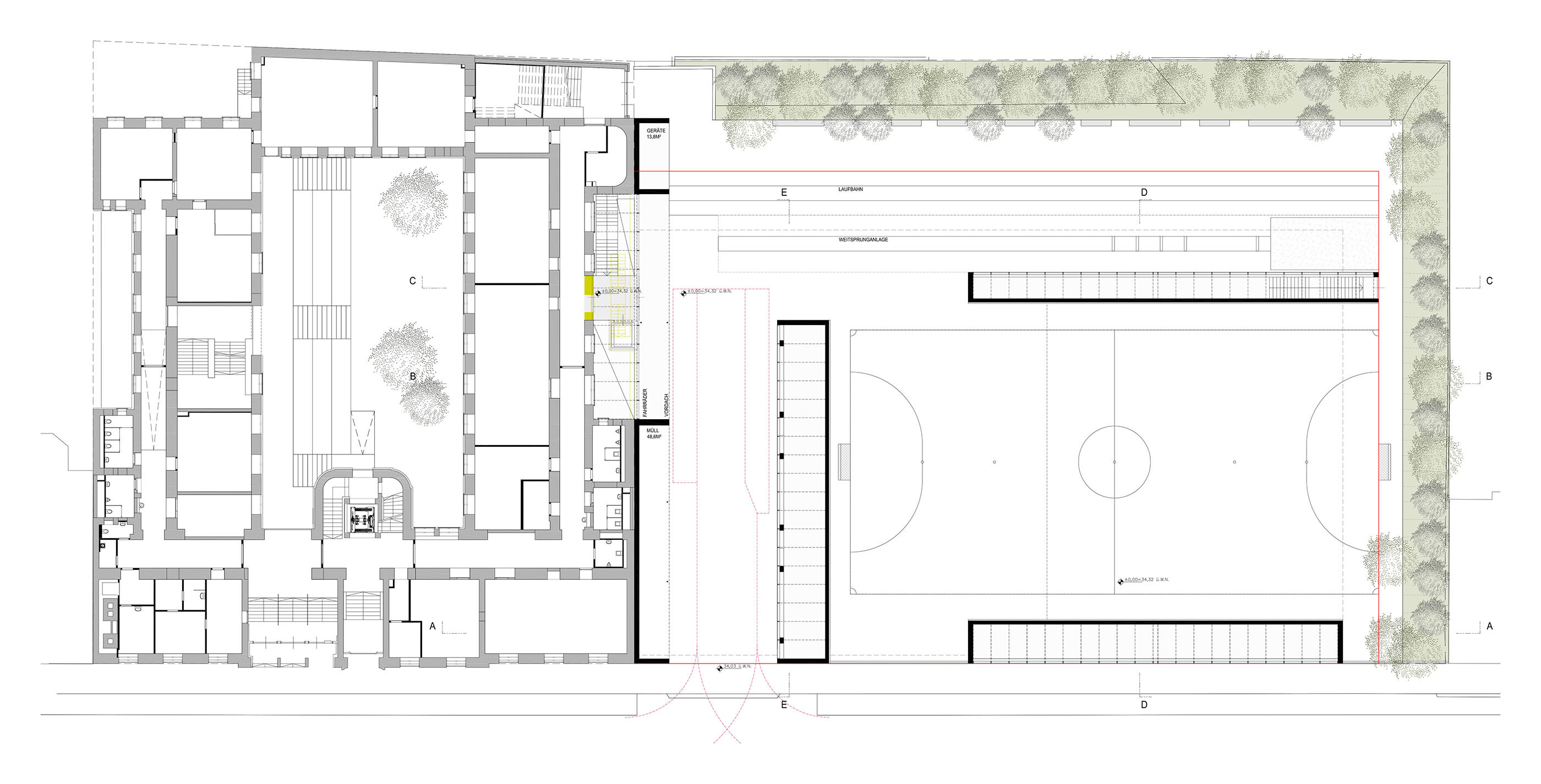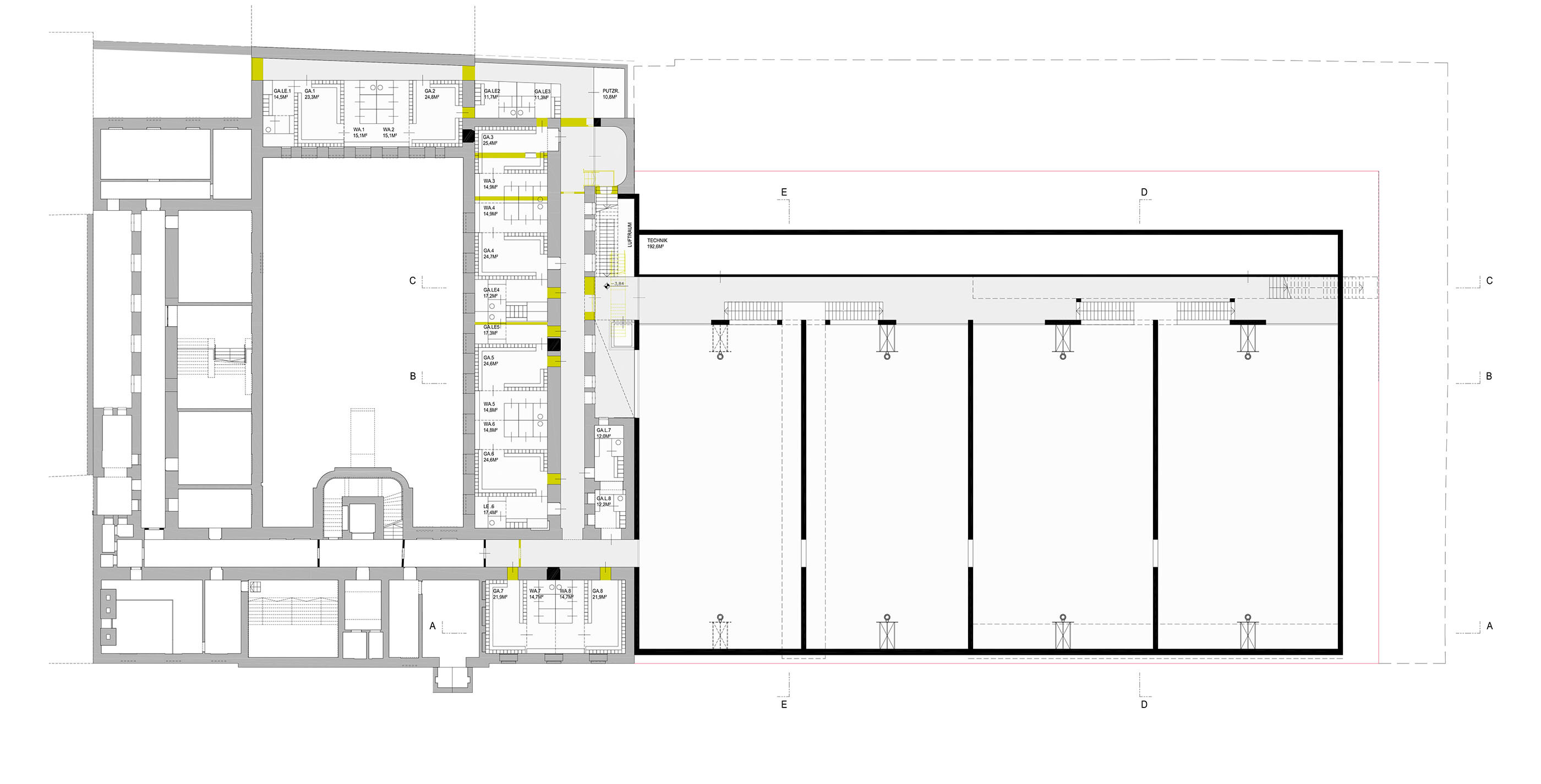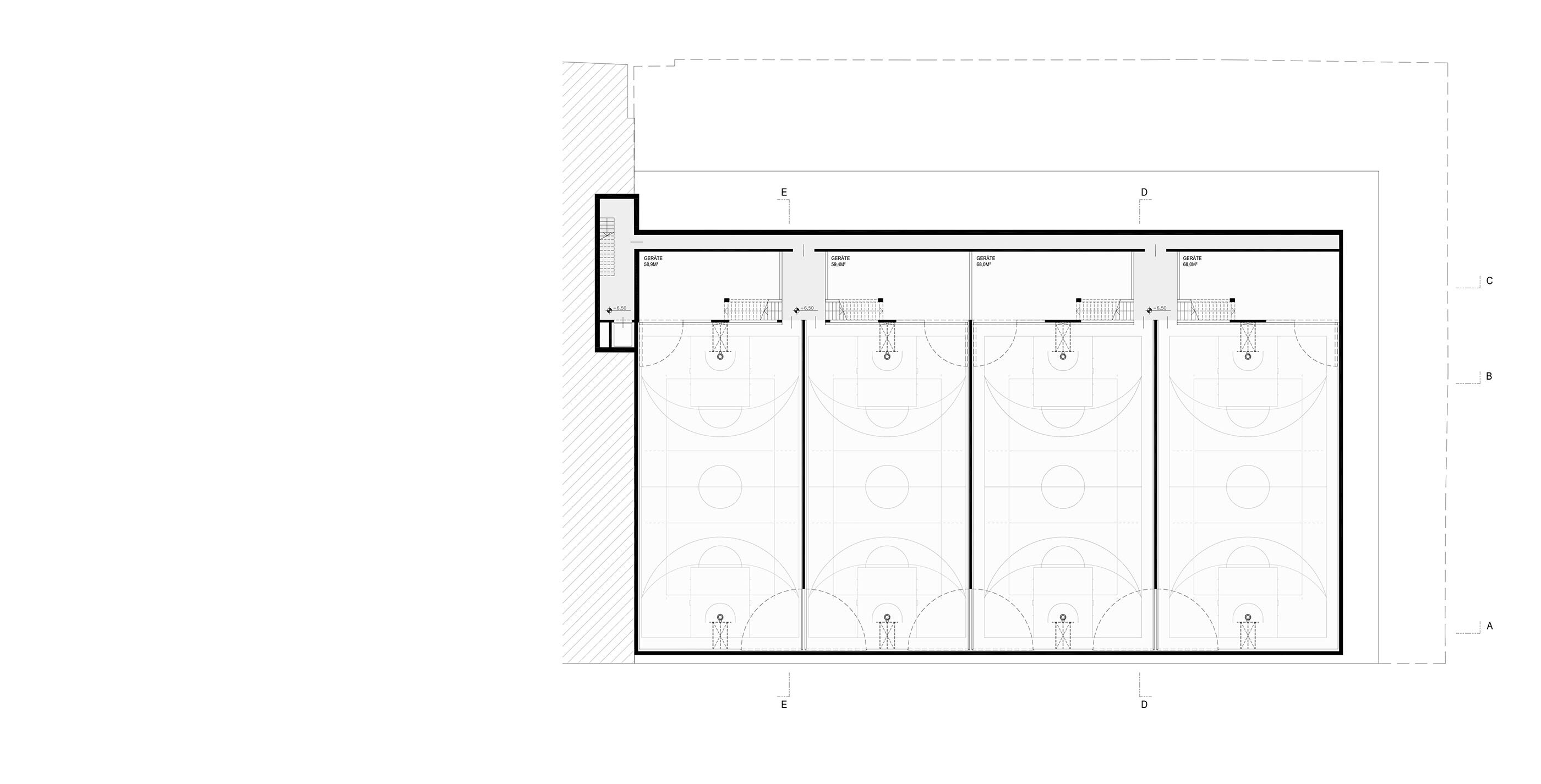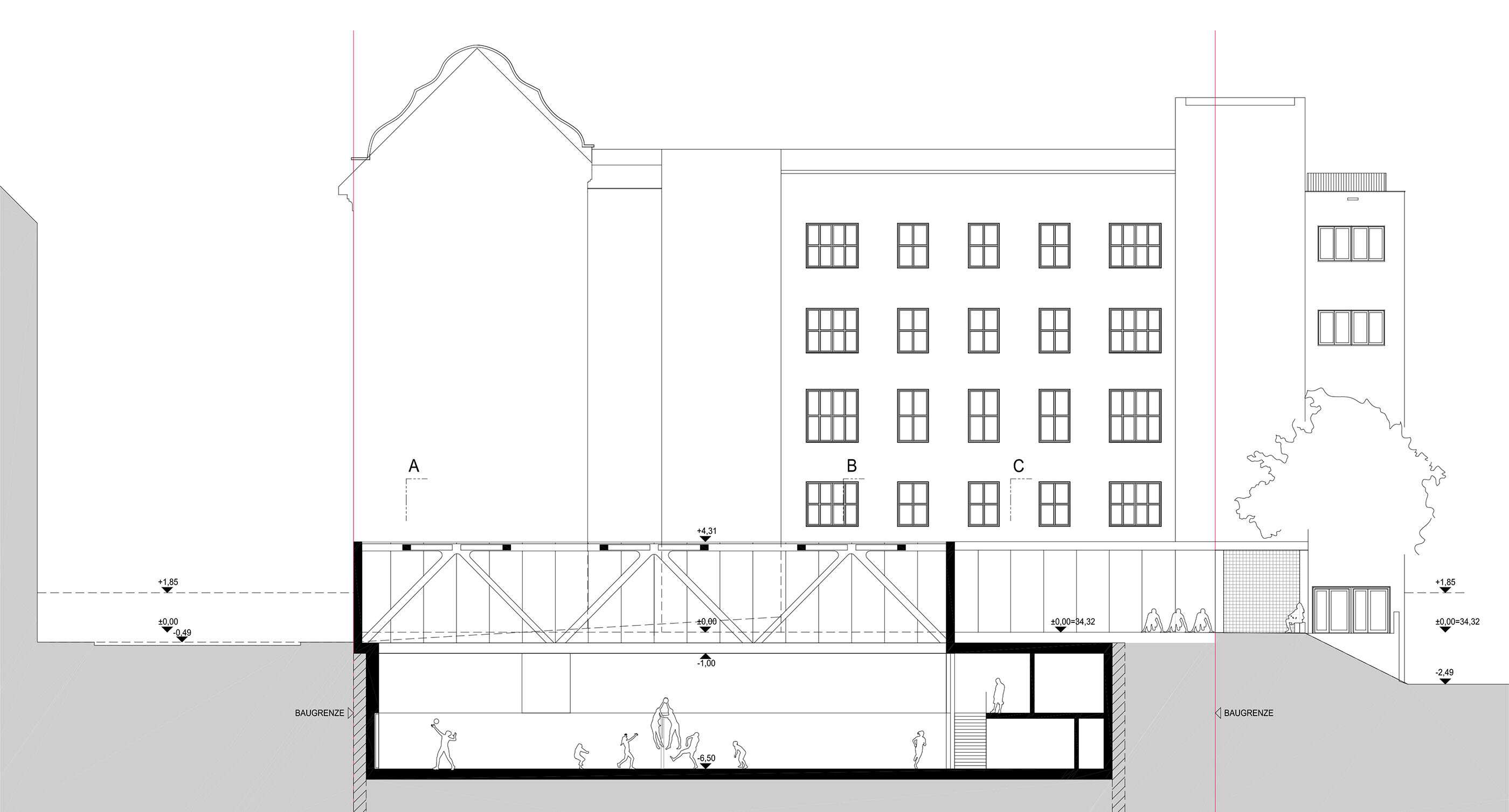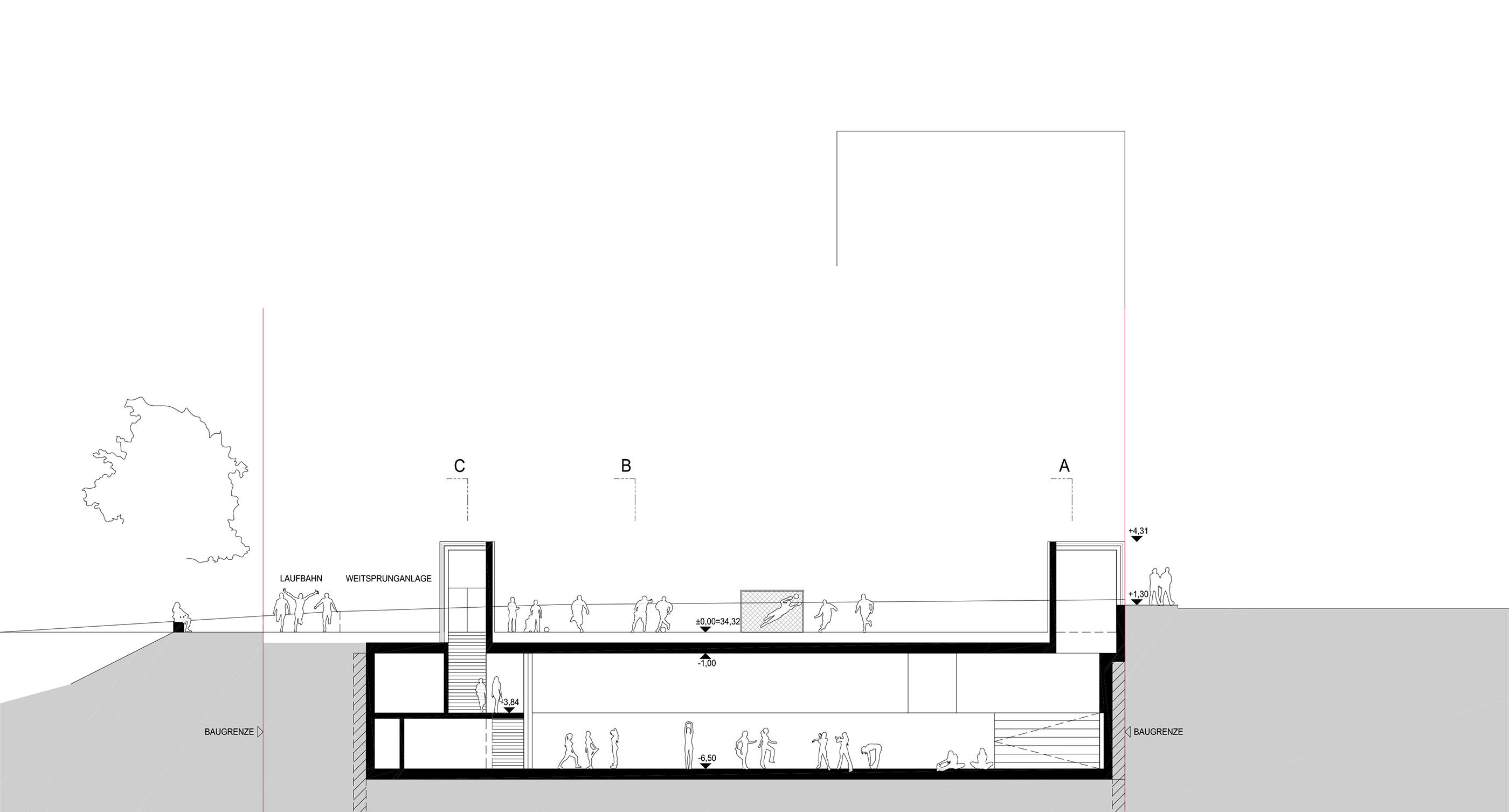 The sports centre for the school on Kriehubergasse is laid out on three levels that relate directly to the floor levels of the school building:

all the outdoor sports areas are on one level, at the ground floor level of the school,
 
the changing areas are made in existing rooms at basement level, access to the four gymnasia is from here,
 
the gym halls along with their appliance storage rooms are located on the second basement level.
 
Three roof lanterns at ground floor level provide light for the gymnasia, break up the sport areas, define the access route (offering a view into the first two gym halls), and form the edge to the street.
 
Access from the school to the gymnasia centre is inserted in the hollowed-out, sunken area of the courtyard in the existing building, allowing a direct connection to the school building on both levels. The ancillary functions garbage room and storage room for outdoor appliances together with the canopy roof to the approach form a definition at ground floor level and a plinth for the unresolved situation of the free-standing firewalls.
 
The positioning of the three large roof lanterns, one of which extends longitudinally above two of the gym halls, one that runs at right-angles along the end walls of two halls, and a third one above the access to the gym halls, together with the lantern above the  corridor made in the recess of the existing building produce light conditions that change delightfully over the course of the day and offer a view of the nearby trees and the street space. In this way the large underground volume is given a discreet but precise presence above ground.
 
The overall layout of the gym halls in the form of a compact block that has a minimal ground level area, with the longitudinal access, appliance rooms and services entirely underground, creates excellent, climatically stable conditions. The precisely positioned and dimensioned roof lanterns introduce plenty of light for school activities and allow the large spaces to be naturally ventilated (silver "climate-active" certification is achieved).
 
By means of just a few, geometrically simple linear elements at entrance level the sports complex, built in a space extracted from a 19th century block and framed within the block by large existing trees and numerous newly planted ones, is related to the existing building and accentuated in the street space.  
EU wide, open, single-stage realization competition,
ranked first

client:
Bundesimmobiliengesellschaft m. b. H.

Team ARTEC Architekten:
Bettina Götz and Richard Manahl
project management:  Gerda Polig
Jun Wook Song,  Sedef Kücükandac, Josef Schröck, Patrick Pregesbauer, Michael Hafner
Micha Nikolussi
competition:
Gerda Polig, Johannes Giselbrecht, Jun Wook Song, Patrick Pregesbauer
Project Data
all-inclusive assignment: ARTEC Architekten

structural engineering: Werkraum Ingenieure, Vienna
building services:  Thermo Projekt, Vienna
electricity planning : tgaplan, Vienna
building physics: DI Bernhard Sommer, Vienna
fire protection: Kunz - Die innovativen Brandschutzplaner, Mödling
sports facilities: Raumkunst, Vienna
landscape planning: Auböck + Kárász, Vienna

start of planning: 2020
start of construction: 2022
completion: 2023

effective floor area:  2.228 m2
total gross floor area: 3.488 m2
cubature : 20.134 m3
total open areas: 2.200 m2